NETUM NT-W8-X 2D Wireless 2.4G Hz & Bluetooth Handheld Barcode Reader
NETUM NT-W8-X 2D Wireless 2.4G Hz & Bluetooth Handheld Barcode Reader
NETUM

CHINA

15 days

30000 pcs/month
➤Mini and delicate, Conformable to handle.

➤Unique CMOS System with German Technology for Accurate and Rapid Scanning.

➤Multilingual user guide/Can read multiple language barcodes like: English, Spanish, German, French, Italian, Japanese.

➤NETUM Anti-shock System

➤Scanning mode: button trigger mode, automatic continuous reading mode, automatic detection mode.

➤Plug and Play.
Quick Details
Products Status: Stock
Type: Barcode Scanner
Scan Element Type: CMOS
Colour Depth: 32 Bit
Interface Type: COM, PS/2, usb
Max Paper Size: 600*600mm
Optical Resolution: 5mil
Scan Speed: 200 times/sec
Brand Name: NETUM
Place of Origin: Guangdong, China
Warranty(Year): 1-Year
After-sales Service: Return and Replacement
Name: High Quality Hand Held 2D Wireless BT Barcode Reader Scanner
Connect choice: 4.wired/ wireless/ BT
Precision: ≥ 5 mil (0.10mm)
Decode speed: 5 in/s(12.7 cm)
Decode error rate: Less than 1/8 million
Depth of scan fie: 2D barcode scanner
Scan type: 2D code/1D code/Compound Barcode
Feature: wireless barcode scanner
Item: BT barcode scanner
Style: 2d barcode reader
Product Description
Why Choose NETUM W Series Wireless Barcode Scanner?
1. Fast Accurate Reading Speed: 32Bit CPU super decoding ability that the speed can up to 200/sec.
2. Provide 25 kinds of languages (Please write to our customer-service if you need Spanish, German,French, Italian, Japanese instructions which we can provide PDF manual for you).
3. Add custom prefixes/ suffixes, delete characters. Add keyboard keys/ combinations (terminator TAB, CR&LF, etc.)
4. Widely Use: This handle held barcode scanner can be used for Store, Supermarket, Warehouse, Logistics, Library, Hospital, Warehouse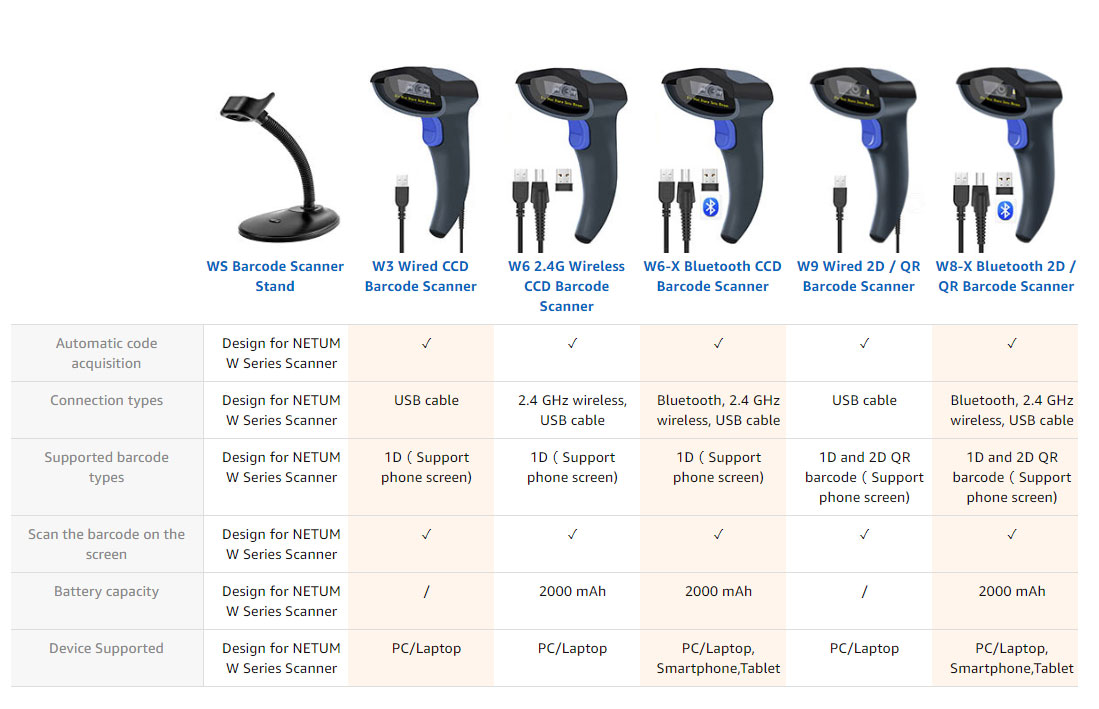 Product Name: W8-X Bluetooth & 2.4G Wireless 2D Barcode Scanner
[Multi Connection Optinal]:3 in 1 Barcode scanner,Bluetooth & 2.4G Wireless & USB Wired Scanner can work via 2.4G USB,you can work more efficient through your smart phone(ios or android),PC,Laptop(Windows,Mac).and over 30m scan range will be more convenience.
[Scan On-screen Barcode:]: NETUM wireless 2D barcode scanner can not only read barcodes from paper but also from LCD screen .A great convenience for mobile payment at stores ,supermarkets and POS system.
[Excellent Decoding Ability:] This W8-X bluetooth barcode scanner can decode most of 1D 2D barcodes with 200 times/s, including QR, Data Matrix ,PDF417, UPC/EAN Add on 2 or 5, Code 128, etc.
[35m Effective Distance, 15d Battery life]: Wireless connection distance reaches 35m, which perfectly satisfies needs for supermarkets, warehouses and other large-space working environment. Once fully charged, the 2000 mAh battery will last 15 days with little interruption, which can greatly improve your work efficiency. [Professional Anti-shock Protection]: The main part of NETUM is covered by 3.5-6.5mm thick TPU material, which can resist shocks and drops. Interior parts such as the beam head and amplitude module are securely fixed by a buckle, customized screws and high strength industrial adhesives. The scanner will stay safe even if falls down from 1.8m off the ground.